Stem Cell Injections for Knee Pain, Arthritis, Tendinitis & More
Regenerative medicine is a game-changing area of medicine with the potential to fully heal damaged tissues, offering solutions and hope for people who have conditions that were once thought to be beyond repair.
For many patients with debilitating knee osteoarthritis, treatment options are limited: steroid injections, joint replacement surgery, physical therapy, etc. At The Root Cause Clinic, in Tampa, new cutting-edge treatment options like umbilical cord stem cell injections may be used to successfully treat patients with knee osteoarthritis, Achilles tendinitis, rotator cuff tendinitis, and degenerative arthritis.
For clarification, this type of stem cell comes from the Wharton's jelly of umbilical cords – not an embryo. While some people may have ethical issues with embryonic stem cell therapy, most everyone agrees that the use of amniotic stem cell therapy raises no ethical or moral questions.
How Does Umbilical Cord Stem Cell Therapy Work?
Stem cells have the ability to develop — through a process called differentiation — into many different types of cells, such as cartilage, tendons, ligaments, etc. Stem cells are a key component of regenerative medicine, as they open the door to new clinical applications.
Stem cell treatment takes advantage of the body's ability to repair itself. With amniotic stem cell therapy, our medical staff injects stem cells from amniotic tissues into your body. These stem cells have anti-inflammatory properties, similar to cortisone and steroid shots. However, stem cell therapy goes far beyond the benefits of standard "injection therapy."
While cortisone and other drugs only provide temporary pain relief and over time can cause degeneration of soft tissues, stem cells actually restore degenerated tissue while providing pain relief. The growth factors in amniotic stem cells may replace damaged cells in your body. Additionally, stem cell injections contain hyaluronic acid, which lubricates joints and tendons, easing the pain and helping restore mobility.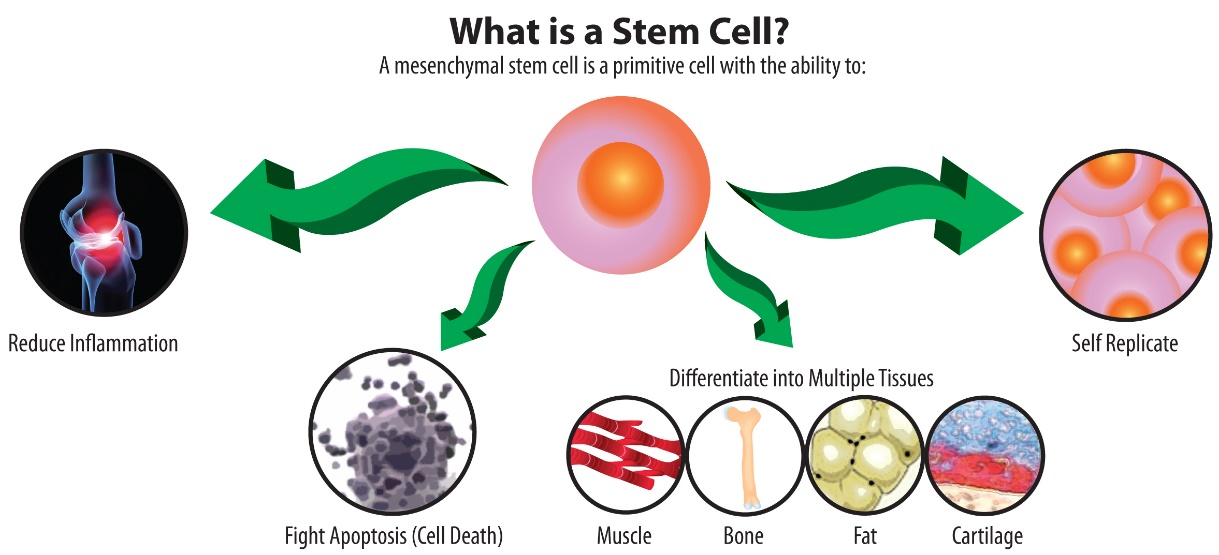 What Benefits Does Umbilical Cord Stem Cell Therapy Offer?
Umbilical Cord stem cell therapy is very safe and effective. Learn more about several benefits this treatment has to offer:
Amniotic stem cells contain no steroids. Instead, the injections rely on naturally occurring anti-inflammatory agents, such as cytokines.
Amniotic stem cells contain hyaluronic acid, which lubricates cartilage and promotes new cartilage growth.
Amniotic stem cells contain growth factors, which stimulate tissue growth.
With amniotic stem cells, there is no threat of patient rejection.
Lastly, amniotic fluid is a highly-concentrated source of stem cells, which makes this type of stem cell injection preferable over embryonic stem cells and the patient's own stem cells (from fat or bone marrow).
Are Stem Cell Injections Safe?
Amniotic stem cell therapy is a preferred type of stem cell therapy because the cells come from an immunoprivileged site, which means that patient-rejection is extremely rare.
The use of amniotic stem cells is well researched, safe, and effective. Amniotic stem cells have been used by ophthalmologists and plastic surgeons for about 20 years.
All amniotic stem cell donors go through a rigorous screening process, as determined by the Food and Drug Administration (FDA) and American Association of Tissue Banks (AATB).
What Should I Expect with an Outpatient Stem Cell Therapy Procedure?
Initial Visit
An initial consultation with our medical team will be required to find out if you are a candidate for Stem Cell Therapy. If you are determined to be a candidate for Stem Cell Therapy, your procedure will be scheduled for another day. This initial consultation is usually covered by your insurance plan.
Preparation
For two weeks prior to your procedure, do not take aspirin or anti-inflammatory medications (NSAIDS).
Procedure
Stand alone stem cell therapy is done as an outpatient procedure, so most patients will leave the clinic and resume low impact activities the same day. Some patients have reported mild pain for 48-72 hours after their procedure, but this can often be attributed to the absence of their routine anti-inflammatory medications. After this time period, most patients will experience a gradual decrease in pain and some may begin to notice increased function.
Post-Procedure
To give your procedure the best chance to provide lasting results, our medical team recommends the following post-procedure restrictions:
Do not take anti-inflammatory medication for 2 weeks after your procedure.
Rest for the first 24-48 hours after your procedure.
Restrict the treated joint to low impact / general use for the first 2 weeks.
For weeks 3-4, you may resume walking, cardio, and light lifting.
After 4 weeks, you may resume running and weightlifting.
Pay special attention to the treated joint and contact your physician with any questions or concerns you may have.
Please Note:
If you are having a stem cell therapy procedure in conjunction with another surgical procedure, your recommendations may change. Consult with your physician on the guidelines and restrictions for your specific case.
Is Orthopedic Stem Cell Therapy Covered By My Insurance?
No. Because stem cell injections are considered investigational for orthopedic applications, most insurance companies will not cover the cost. Please contact our office to discuss cash payment options.
Am I a Candidate for Stem Cell Therapy?
Patients suffering from any kind of joint, tendon, or ligament pain may be considered as candidates for amniotic stem cell therapy at The Root Cause Clinic. In some cases, patients with severe degenerative osteoarthritis may not be eligible for stem cell therapy.
Pain Free Is a Click Away! Sign Up for Your Stem Cell Consult Below.