Ozone Therapy
Prolozone and Ozone Therapy are anti inflammatory treatments that decrease inflammation which then helps regenerate the joints with NO side effects. By taking the body's own healing properties and concentrating them; this therapy is putting those healing properties back into that joint, or wherever the pain may be, helping the affected area feel like new again!
Each year, over 200,000 people die from infections and drug interactions from surgeries and medical treatment. Using ozone and prolozone therapy reduces the risks of major health complications.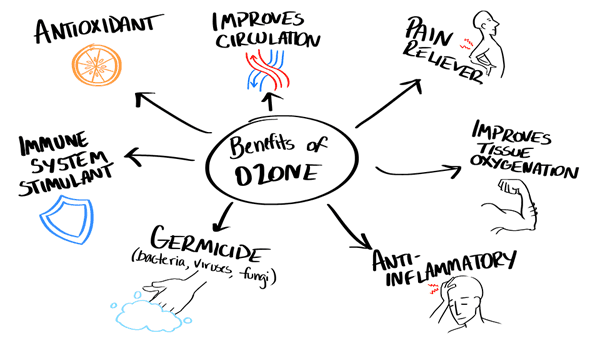 Initial Visit
An initial consultation with our medical team will be required to find out if you are a candidate for Ozone Therapy. If you are determined to be a candidate for Ozone Therapy, your procedure will be scheduled for another day. This initial consultation is usually covered by your insurance plan.
Preparation
There is no preparation needed for this treatment. Because your body already produces oxygen, you will not have to prepare.
Procedure
Stand alone stem cell therapy is done as an outpatient procedure, so most patients will leave the clinic and resume low impact activities the same day. Some patients have reported mild pain for 48-72 hours after their procedure, but this can often be attributed to the absence of their routine anti-inflammatory medications. After this time period, most patients will experience a gradual decrease in pain and some may begin to notice increased function.
Post-Procedure
To give your procedure the best chance to provide lasting results, our medical team recommends the following post-procedure restrictions:
Do not take anti-inflammatory medication for 2 weeks after your procedure.
Rest for the first 24-48 hours after your procedure.
Restrict the treated joint to low impact / general use for the first 2 days.
For days 3-4, you may resume walking, cardio, and light lifting.
After 4 days, you may resume running and weightlifting.
Pay special attention to the treated joint and contact your physician with any questions or concerns you may have.
Please Note:
If you are having an ozone therapy procedure in conjunction with another surgical procedure, your recommendations may change. Consult with your physician on the guidelines and restrictions for your specific case.
 Is Ozone Therapy Covered By My Insurance?
The actual procedure of injecting the ozone into the body is covered, however, the actual substance itself is not. Ozone generator can be rented upon avalibility.
Am I a Candidate for Ozone Therapy?
Patients suffering from any kind of joint, tendon, or ligament pain areconsidered as candidates for ozone and prolozone therapy at The Root Cause Clinic.