Discover how simple it can be to prepare healthy foods and transform your relationship with food.  Here are a few examples of healthy Paleo recipes to help you get started.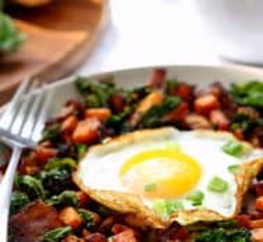 Sweet Potato Bacon Kale Hash for One

A single serve Sweet Potato Bacon Kale Hash that is healthy, satisfying, and made in one skillet!
Have it with fried eggs for breakfast or comfort food any time of day. It is grain free, dairy free.
Paleo and Whole30 friendly.
Servings: 1 serving
Ingredients:
– 1 small sweet potato or half of a larger one scrubbed and chopped into small cubes
– 3 slices sugar free nitrate free bacon – cut into bites size pieces
– Generous pinch of fine grain sea salt
– Generous pinch of smoked paprika (you may like a different spice)
– Handful of kale, spinach, or other greens you may like, roughly chopped
– 1 egg
– Extra pinch of salt and black pepper to taste
– Thinly sliced green onions for garnish (optional)
Instructions:
1. Heat well-seasoned cast iron skillet, for extra iron if wanted or needed (or stainless steel heavy
skillet) over low to medium heat. Add the bacon pieces.
2. Allow the bacon to cook just long enough to render some fat, then add the chopped sweet
potatoes to the pan and stir to coat with the fat. Sprinkle on a pinch of salt along with the smoked
paprika.  Cover the pan with a cover to allow the potatoes to fry and steam at
the same time (perfect fit not necessary)
3. Cook for about one-two minutes covered, then uncover and stir to prevent burning. Adjust the
heat if necessary, then cover again and cook until the bacon and potatoes are browning and the
potatoes are getting soft.
4. Uncover the skillet and add the chopped kale, or other greens selected. Stir to coat the kale with
bacon fat, add a pinch of salt, then re-cover to allow the kale to cook.
5. While the hash is cooking, you can fry or scramble your egg in a separate pan to serve alongside
the hash. You can use rendered bacon fat for this or another cooking fat of choice.
6. Once the bacon, potatoes and kale, or other greens, are cooked to preference, stir once again and
transfer to a plate to serve! Top with your cooked egg and garnish with green onion and
additional salt and pepper if desired for a final touch. Enjoy!
You could do this recipe with shredded chicken or eggs for breakfast or a snack. Great to make ahead and take for lunch. Just place in an airtight storage container and add lemon juice to keep the avocado from turning brown.
Ingredients;
– ½ small avocado, diced
– 4 ounces albacore tuna canned in oil
– 1 heaping tablespoon dried tart cherries ( other low sugar dried fruit works too)
– 1 tablespoon chopped pecans ( or other nuts you may like)
– Pepper to taste
Instructions:
1. Mix all ingredients in a small bowl until combined.
2. Serve salad in avocado bowl.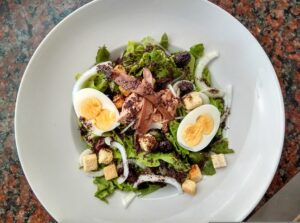 Chicken, Egg, or Tuna Salad
Ingredients:
– Get or make chopped or shredded chicken, hard boiled eggs, or tuna. Which ever one you want or like (salmon would be great too). 8 or 16 oz depending on how many people you want to feed or how many days you want to eat it.
– 8 Tbsp. (depending on the consistency you want and how much you are making) of Avocado Mayonnaise (Chosen brand is great, just want it to be simple ingredients you know and no additives, sugar or coloring)
– Add chopped organic celery or onions to your liking.
– Salt and pepper to taste (you can add other seasonings you like as well)
-You can try a little spicy mustard or other mustards if you like that flavor. Start with 1tsp and work up
from there to figure out how much you like.
– Big leafy green lettuce leaves to serve it in or paleo bread
Instructions:
1. Mix all ingredients in a small bowl until combined.
2. Serve salad in a lettuce wrap, on Paleo Bread or just in a bowl with a spoon.
Ingredients:
– 2 chicken thighs or breasts
– 12 oz chopped Butternut squash (about 2 ½ cups)
– 1 tablespoon + 2 teaspoons coconut oil
– 6 cups mixed greens
– 1 avocado, chopped
– ¼ cup tahini
– 1 tablespoon lemon juice
– 1 tablespoon apple cider vinegar
– 3 tablespoons water
– Salt
– Pepper
– Garlic powder
Instructions:
1. Preheat oven to 425 degrees. Place butternut squash on a baking sheet. Toss with 2 teaspoons
of melted coconut oil, ½ teaspoon salt, ¼ teaspoon pepper, and  ¼ teaspoon garlic powder. Roast
in the oven for 25 minutes, tossing around half way through.
2. Take your chicken and sprinkle both sides with salt, pepper and garlic powder. Place a large
sauté pan over medium high heat. Add 1 tablespoon of coconut oil and let it heat up for about 30
seconds. Add chicken and cook for 3-4 minutes on each side depending on how thick they
are (If they are thick, I suggest pounding them down a bit so they all have even thickness). Set
chicken aside.
3. In a small bowl combine tahini, lemon juice, apple cider vinegar, water, ½ teaspoon salt, ¼
teaspoon pepper and ¼ teaspoon garlic powder. Toss a couple of tablespoons of dressing over
the greens in a large bowl until evenly coated.
4. To assemble the bowl, add lettuce. Top with butternut squash and chopped chicken and avocado
pieces. Drizzle more tahini dressing on top and enjoy!
These Paleo Chicken Burrito Bowls are packed with tons of flavor and goodies! Bite size seasoned
chicken thighs, zesty cauliflower rice, peppers and onions, plus an easy guac make these bowls
healthy, filling, and a family favorite. Whole30 and keto friendly. See below for other
options for Paleo bowls for ease of "what's to eat"
Servings: 6
Ingredients:
Chicken:
– 1 1/2 lbs boneless skinless free range/organic chicken thighs
– 1 Tbsp coconut oil ghee, or avocado oil
– 3/4 tsp sea salt
– 1 tsp onion powder
– 1 tsp garlic powder
– 1 tsp cumin
– 1 1/2 tsp chili powder
– Large pinch Chipotle powder or more, to taste
– Juice of 2 limes
Cauliflower rice:
– 1 lb cauliflower rice I purchased this "pre-riced" ( Costco has a great organic one in frozen section
that has a little other veggies in it)
– 1 Tbsp coconut oil, ghee, or avocado oil
– 3/4 tsp sea salt
– 1-2 Tbsp fresh lime juice
– 1 jalapeño pepper minced
– 3/4 tsp onion powder
– 3/4 tsp garlic powder
– Dash chipotle powder
Peppers and onions:
– 1 large onion sliced thin
– 1 large red bell pepper sliced thin
– 1 Tbsp coconut oil or other cooking fat
– Sea salt taste
Guacamole:
– avocados
– 1/4 cup onion minced
– 2 clove garlic minced
– 1 jalapeno pepper minced
– 2 Tbsp  fresh lime juice or to taste
– 2 Tbsp chopped fresh cilantro plus more for garnish
– Sea salt to taste
– Optional toppings:
– Salsa fresh herbs, sliced jalapeño.
Instructions:
For the rice:
1. Heat a large skillet over medium heat and add oil or ghee. Add the riced cauliflower and stir to
coat. Cover skillet and cook for about 2-3 minutes to steam.
2. Uncover and stir, then add the jalapeño, salt, seasonings and lime juice. Cook and stir another
minute or two uncovered until you have desired texture, then remove from heat and set aside.
For chicken, peppers, onions:
3. Cut chicken thighs into bites size pieces. Season all over with all seasonings (not the lime) and
heat a large skillet over medium high heat (you can move the rice to a bowl and use the same
one) and add 1 Tbsp cooking fat.
4. Add chicken and brown all over, stirring as needed. Stir and cook over medium/medium high
heat for 7 mins or until cooked through. Lower heat a bit and add the lime juice, stir and
continue to cook another 2-3 minutes, then remove from heat and place in a bowl.
5. Keep the heat on medium and add another Tbsp fat to the skillet. Add peppers and onions and
stir to coat with fat. Sprinkle with a bit of sea salt to taste, and continue to cook, stirring
occasionally, about 5 minutes or until softened and browning, then remove from heat.
6. To make the guacamole, mash together the avocado with the rest of the ingredients, adjusting
seasonings to taste.
Assemble bowls:
Layer the cauli rice, chicken, peppers and onions in bowls, then top with guac and any other
desired toppings. Serve right away and enjoy!
You can follow the above recipe making changes in what you use in the bowl as well. Here are some
options for substitutes to change them up with other ingredients so you have an idea of how
prepping some ingredients and having them in the fridge can make eating Paleo/healthy easier
than you think! This gets increasingly easier as you get used to these simple ideas and then you will be
able to expand on them and more.
Base Options:  Cold or cooked; kale slaw, spinach salad, broccoli cauli slaw, zucchini
noodles (zoodles, there is simple kitchen tool that is cheap and can make these).
Vegetable Topping Options: Any steamed, baked or roasted chopped veggies; seasoned sauteed mushrooms
of any kind, if beans are allowed with your protocols once in a while sprouted black or chickpeas could be
options.
Protein/meat Options: Baked, seared or roasted wild caught salmon; grass fed ground beef, taco seasoned
ground beef or any other flavor you like; BBQ or rotisserie chicken; seared, baked or grilled steak (note: grilling
on charcoal or propane just know that the black char on that or any grilled meat is toxic and I recommend you
do it on other surfaces in consideration of health issues)
Optional Sauces: Any store bought dressing that is clean and made with Olive Oil or Avocado oil (Primal
Kitchen rand has great options if you don't have time to make any.