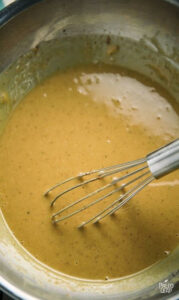 South Carolina-Style Mustard Barbecue Sauce
Ingredients:
– 1 cup old-fashioned mustard
– 1/4 cup raw local honey
– 1 tbsp. favorite hot sauce (be sure it is clean)
– 1/3 cup apple cider vinegar
– 1/2 tbsp. chili powder
– 1 tbsp. organic ketchup
– 2 tsp. coconut aminos
– 1 tbsp. garlic powder
– Sea salt and freshly ground black pepper
Instructions:
1. Combine all the ingredients in a saucepan and season to taste.
2. Bring the sauce to a light simmer over medium heat.
3. Simmer the sauce for 8 to 10 minutes, then let cool.
4. Serve the sauce with any meats like grilled chicken, pork, or beef on your Paleo bowls.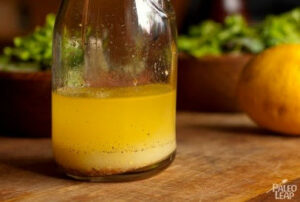 The Classic Lemon Vinaigrette
This is the classic vinaigrette, which is very versatile, but goes particularly well on salads with fresh
herbs or smoked salmon.
Ingredients:
– 3 tbsp fresh lime or lemon juice
– 1/2 tsp Dijon mustard, optional
– 3/4 cup extra-virgin olive oil
– Sea salt and freshly ground black pepper to taste
Instructions:
Follow the general preparation technique by combining all the ingredients except the oil and
then adding the oil slowly while whisking vigorously. Using a blender will help to emulsify the
vinaigrette. Shake well before using.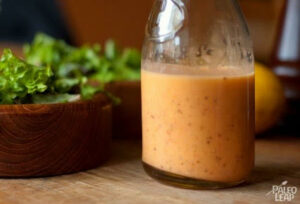 Crushed Tomato Vinaigrette
This dressing is good for all kinds of salads, but also really great on grilled fish or chicken.
Ingredients:
– 1 quantity of the classic lemon vinaigrette;
–  4 oz cherry tomatoes;
– 1 crushed clove of garlic;
Instructions:
Add all ingredients in a blender and process to a smooth purée. You can thin it with a little water if necessary.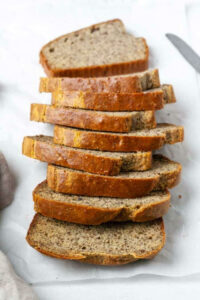 Easy Homemade Paleo Bread
TIP: It is recommended that you use the 7.5 x 3.5-inch loaf pan or your bread will not be the proper
height or cook as well. This is great to make avocado toast or add to chicken, tuna, or egg
salad. Also, great to make French toast and use a little pure maple syrup on top.
Ingredients:
– 2 cups almond flour
– 3 tablespoons coconut flour
– ¼ cup ground flax meal
– ¼ teaspoon sea salt
– ½ teaspoon baking soda
– 5 organic eggs
– 1 tablespoon coconut oil
– 2 tablespoons raw honey
– 1 tablespoon apple cider vinegar
Instructions:
1. Grease a 7.5 x 3.5 inch loaf pan.
2. In a food processor add the almond flour, coconut flour, flax meal, salt and the baking soda
and pulse a few times.
3. Add in each egg, the coconut oil, raw honey and the apple cider vinegar. Continue to process
until the ingredients are mixed very well.
4. Scoop the batter into the loaf pan and bake at 350 degrees F for 30-35 minutes or until the
center is cooked completely.
5. Allow the bread to cool completely and slice. Store in an airtight container for several days.
You can also slice and wrap and store in the freezer to take a slice or 2 out at a time and toast it
to thaw and use it. I don't recommend using a microwave for this or any food for that matter.